27.07.2021: Onze leveringen aan huis gaan gewoon door, 1-3 werkdagen ♡
Covid-19 update: Wij leveren in Nederland met DHL Express - 1-3 werkdagen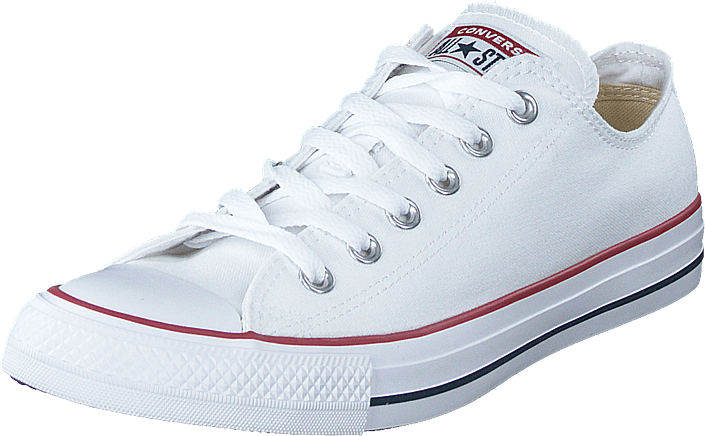 Wil je anderen inspireren? Tag @footway in je foto op Instagram voor een kans om hier te worden weergegeven
3D
Productomschrijving
Wit
Textiel
Rubber
4 cm
Veters
24597-00
Converse All Star Canvas Ox Optical White

Als één van de meest bekende schoenenmerken heeft Converse een lange geschiedenis die meer dan 100 jaar teruggaat in de tijd. In het begin maakten ze vooral overschoenen, maar mettertijd gingen ze over op de productie van sneakers. Over de jaren hebben ze veel verschillende modellen gemaakt, maar één model prijkt uit boven de rest, de Converse All Star Canvas Ox Optical White. Van topsporters en rocksterren tot het gewone volk, iedereen draagt deze eenvoudige, stijlvolle stoffen schoenen. Converse All Star Canvas Ox Optical White past overal bij. Ze zijn geschikt voor elk seizoen, voor elke gelegenheid en voor een ruime keuze aan outfits.


Luchtig textiel en sterk rubber

De mooie en simpele ontwerpen maken Converse ongelooflijk populair. De schoenen hebben een duurzame rubberen zool en een schacht van stevig katoenen canvas. Laat je niet afschrikken door de simpele constructie. De Converse All Star Canvas Ox Optical White is ontzettend comfortabel en geeft goede vering dankzij de rubberen zool. Een populaire manier om je Converse een persoonlijke touch te geven is om de veters uit te wisselen voor een paar in je lievelingskleur. Om je Converse zo lang mogelijk mooi te houden kun je de schoenen gemakkelijk afspoelen wanneer ze vies worden. Deze schoenen zijn het hele jaar door populair, maar allerfijnst zijn ze in de lente en zomer dankzij het luchtige textiel.


Converse passen overal bij

Geen schoen is zo veelzijdig als de Converse. Deze simpele schoenen passen bijna overal bij, of je nu een versleten spijkerbroek of een net pak aantrekt. Subtiel en discreet voltooien Converse je hele outfit en zetten de puntjes op de i. In de zomer staan Converse All Star Canvas Ox Optical White geweldig bij een vrolijk overhemd, een paar spijkershorts en een kleurrijke accessoire. Ook om een nette outfit wat minder stijf te maken zijn ze perfect, bijvoorbeeld samen met een mooie feestjurk. Probeer het zelf, de mogelijkheiden zijn eindeloos!


Onderhoud van je Converse

Converse All Star Canvas Ox Optical White zijn gemaakt van katoen en stevig rubber, dus je kunt reinigingsmiddelen voor textiel gebruiken om ze schoon te maken. Als je een vlek op je schoenen hebt kun je proberen ze voorzichtig te wassen in gewoon wasmiddel. Bij nat weer is het slim om je Converse thuis te laten, want echt waterdicht zijn ze niet.
Laat meer zien
Populaire schoenen van Converse